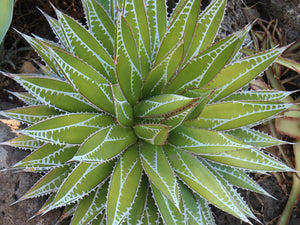 Agave impressa is an attractive succulent that usually forms a solitary rosette of yellow-green leaves marked with pairs of white imprints. The leaves are up to 60 cm long and 9 cm wide.
In full sun, they take on a red hue around the edges. Flowers are greenish-yellow and appear in late winter to early spring on an erect, unbranched, up to 3 m tall flower spike.
Plant available for sale is a medium size (planted in a 130mm pot).
All succulents are sent bare rooted (most of the soil removed) by Express Australia Post at the start of each week. You will receive a shipping email for tracking if you provide us with your email address.