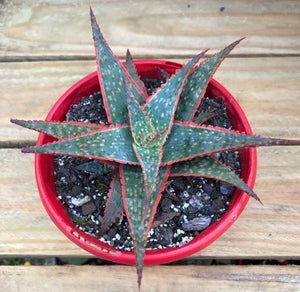 An Aloe hybrid for Christmas- it has attractive fleshy, textured leaves with raised vibrant dark red markings, that form into rosettes. Grows into small clumps and produce showy spikes of flowers.
It is excellent in pots and gardens, is a slow grower, preferring full sun to part shade. 
All succulents are sent bare rooted (most of the soil removed) by Express Australia Post at the start of each week. You will receive a shipping email for tracking.