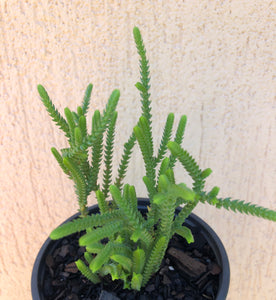 aka Watchchain or rattail crassula, or Zipper plant.
 
Originally from Africa, the small leaves  are tightly compacted along the stem like a snakechain. A prolific grower, it has a spreading habit but only reaches a height of approx 15cm. 
Prefers full sun to partial shade   
Like all succulents it requires free draining soil and little water.
All succulents are sent bare rooted (most of the soil removed) by Express Australia Post at the start of each week. You will receive a shipping email for tracking if you provide us with your email address.