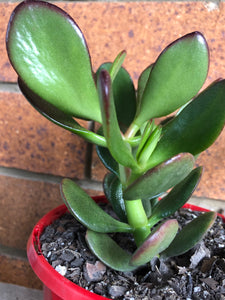 A compact well branched Crassula with green leaves that get a red tint when grown in full sun. They will colour to a deeper red with less water or fertilizer and in cooler weather.  Infrequent creamy white starlike flowers.
Excellent grown in pots and forms the appearance of a bonsai with age.   
Protect from frost.   Full sun or part shade.
Can grow to 1m high.
All succulents are sent bare rooted (most of the soil removed) by Express Australia Post at the start of each week. You will receive a shipping email for tracking.