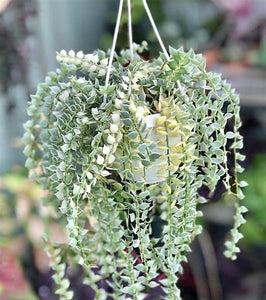 Dischidia ruscifolia, also known as a million hearts, is a very pretty sprawling or climbing plant with slender green stems densely decorated with pairs of succulent heart-shaped leaves.  The pictured plant is a mature plant - we have medium size plant for sale (130mm pot).
The stems are repeatedly branched near the base and grow up to 1 m long. Leaves are green with prominent veins and a lovely red tinge in intense light, growing up to 1 cm long.
The tiny axillary flowers are white, appear throughout the year, and remain for long periods.
Great indoor plant as it thrives on low light conditions.
All succulents are sent bare rooted (most of the soil removed) by Express Australia Post at the start of each week. You will receive a shipping email for tracking if you provide us with your email address.