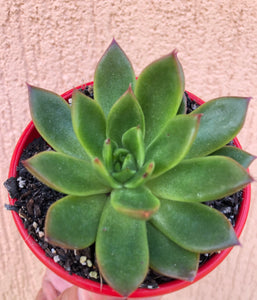 This is a beautiful Echeveria which forms a rosette of glossy green fleshy leaves with a cherry blush on the pointed tips, giving the appearance of a waterlily flower.
They are great in pots and prefer filtered light.
Like all succulents it requires free draining soil and little water.
All succulents are sent bare rooted (most of the soil removed) by Express Australia Post at the start of each week. You will receive a shipping email for tracking if you have provided your email address.