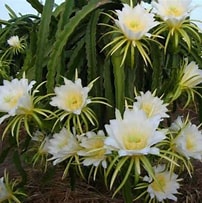 Hylocereus megalanthus (yelloe pitaya or dragonfruit) is a spreading, climbing cactus that produces fruit with a yellow skin and is the rarest of the Dragonfruit's seen here in Australia.
This species is grown commercially for its fruit in many countries, but it is not uncommon to see it growing purely for its ornamental value.  Easy to grow and fast growing, this species grows best in full sunlight.
Yellow pitaya grows some of the largest flowers of all cactus species.  It is recognised for its distinctive yellow fruit, called yellow dragon fruit.
Like all succulents it requires free draining soil and little water.
All succulents are sent bare rooted (most of the soil removed) by Express Australia Post at the start of each week. You will receive a shipping email for tracking.