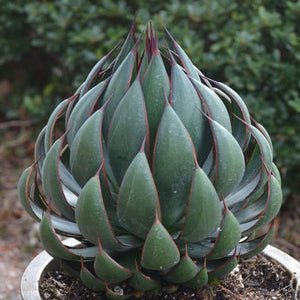 This evergreen stunning plant has bold, evergreen leaves that curl upward. The leaves have a pointy end, and they have a lanceolate shape. Their habit, however, differs from many other plants in that the leaves curl upward, forming a closed rosette that is narrow at the bottom, wide in the middle, and tapering at the top. The margins of its leaves are reddish, giving the entire plant a flourish finish. 
Can grow to 25cm high and wide.
Likes full sun to part shade.
All succulents are sent bare rooted (most of the soil removed) by Express Australia Post at the start of each week. You will receive a shipping email for tracking if you provide us with your email address.