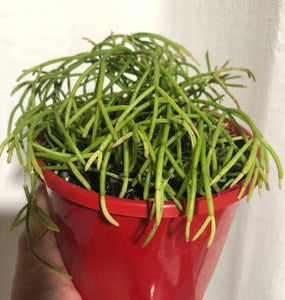 A trailing succulent that is excellent for hanging baskets or pots, ideal for courtyards or balconies.
This slender stemmed epiphyte has multiple, fine, pale green branches with no bristles or spines. Flowers are glossy greenish white followed by small white fruit.
Protect from frost. Prefers part shade.
Like all succulents it requires free draining soil and little water.
All succulents are sent bare rooted (most of the soil removed) by Express Australia Post at the start of each week. You will receive a shipping email for tracking if you provide us with your email address.