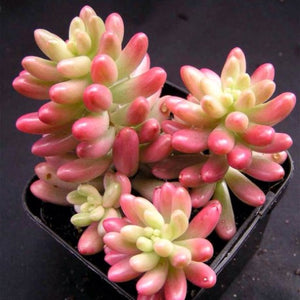 Also known as Pink Jelly Beans
Easily grown. A lovely form of this spreading perennial with thin stems clothed with clusters of pale pink, fleshy jellybean shaped leaves.  Small yellow flowers appear in winter.
Prefers shade and excellent for groundcover or rock gardens.
All succulents are sent bare rooted (most of the soil removed) by Express Australia Post at the start of each week. You will receive a shipping email for tracking if you provide us with your email address.